Bawd with a Bic

My Tribute to the Goddess of Poetastery
Tracy McGimmesome
It's very important for little girls to have role models and some of you probably know that the biggest influence on my output has been the Goddess of Poetastery, Tracy McGimmesome. She has been my guide in everything I do with a pen, a shovel and a whip. Without her example, I might have grown up to be a mediocre middle class maven, waxing neurotic in the Arizona sun. A pioneer of slutslam poetry, erotic economics and a voluptuous humanitarian donating her time to the sexual gratification of the North Atlantic Fleet, Ms. Gimmesome's orgasmic poetry has been absent from the Internet until now. Far too busy giving head to heads of state, rock stars and the odd cabby to maintain a page, Tracy has graciously given permission for me to put up this tribute to her. "Sure, Chickie," she croaked, her mellifluous tones enriched by her first cigarette of the day and a shot of tequila, neat, "whatever trips your twat. Gotta go. I'm domming at an S&M party in Portsmouth and it takes forever to get into vinyl and chains."

Tracy McGimmesome's Conquests

The sexual exploits of Tracy McGimmesome include erratic sexual encounters with animals and implements at Tracy's Pleasure Palace, Visa, MasterCard and American Express accepted. My information was gathered at various Naval ports, bordellos and sex shops in England and America, as well as from Tracy's soon to be published autobiography, "What I Did With a Drunken Sailor: The Tracy McGimmesome Story," soon to be released by DialDildo Press.

At the 22nd Annual Sexual Olympics held last year in Bangkok, Thailand, Tracy scored the only perfect 10 ever awarded in the Aquatic Copulation With a Sea Mammal Competition. "Her form was impeccable," declared the Japanese Judge,"and when she was able to deep-throat a dolphin while simultaneously humping a humpback whale, the gold medal was clinched." Her radiant promiscuity made her a popular hole for over three decades. An animal lover, as well as a dominatrix, Tracy collaborated with noted Chinese Animal Sex Therapist, Dr. Hung Too Loo, producing a series of stag films to teach the pandas at the Washington Zoo the mechanics of panda propagation. Tracy's phone number has been published over 33 million times in bars, zoos, ports, and truck stops the world over.

Tracy McGimmesome is the recipient of the Larry Flynt Lifetime Achievement Award for Lap-dancing and is a two time for the Marquis de Sade Prize. A four time gold medallist at the Sexual Olympics, she holds the world's record for Most Primates Jerked Off in an Hour. Her erotic limericks have been anthologised in Cheri, Hustler, and most recently in Splooge: The Onanism Annual. Tracy was voted Entertainer of the Year by the Hunsacker Impotency Institute and received a Humanitarian award for her relief activities on behalf of the Naval Reserve.

Tracy's talents go beyond her steamy poetic output and include tassel twirling, writing bawdy song lyrics and defrocking clergy on her bear skin rug. Sailors the world over can be heard humming dirty ditties that Tracy composed. A consummated artist, Tracy has recently added body painting to her repertoire, specialising in full frontal compositions. Tracy is reputed to have one of the world's largest collections of sexual paraphernalia, including more than 6000 butt plugs and anal probes.

The next best way to get to know this magnificent romantic poetess come bawd who revels in the throes of creation, after swapping body fluids, is through her poetry. Prepare for her raw animalism to stroke the turgid flames of your raucous carnality.

A SHIPLOAD OF SAILORS IN MY SOUL


On a large pink water bed they nailed her,
there were the lowest ratings, a corps of marines,
an old hardened coxswain,
and her very favourites
two braided admirals in hats.

To her surprise, they all fired Mont Blancs, bonks
were few, though the marines, in particular
the bold black ones, wrought in white all over her
but the seamen declined.

But what was inside her was what she had waited for,
nearly all of her life but certainly
on this night of nights
with day yet to come.

Excited beyond belief to finally have been banged
by a gang of sailors like she always wanted
she slid her finger roughly into the winking
arsehole of Admiral De Blowhard
and pulled out not one not two but three that's three
of the worst soiled sheets of toilet paper
her gold and green eyes, one of each
had ever seen a movement on.

There before her
in the tender palms of her hands
on those ghastly sheets of white paper
lay a magnificent hand-written turd
on which was etched the title, "Hello Sailor"
by the master himself, Mr Rod McKuen.
Also included was a disclaimer in his own hand
addressed to the admiralty.

Gliding her happy trembling fingers over
the worthless sheets of toilet paper
glinting with harmless turds of Sodom
she began drifting back into reality.

Her thoughts were driven to him.
The one and only giver of the priceless gift.
The one who only comes once in a lifetime but boy when he does.
Her friend. A real friend.
The kind of friend who gives
without expecting anything in return,
except to make someone happy.

And her soul concludes
that he likes sailors too.

For he also,
is a "Fucking Stupid Tart"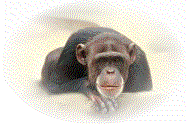 From Her Fourth Cumming Album / Book / Movie / Prim Time TV Show
Postcards from the Edge of the World


CRUISING ON THE SEA

Hello sailors, look at me,
On my back on the deck
showing off in the sun.

Yes it's me, you're in luck,
I'll put the crew
back in cruise,
only ask and it's you
I'll a d o r e.

Let me count all the ways
That I know
how to thrill you.
Well, there's this and there's this
and there's unnggwaugh.
Won't you write on my skin
with your ball point?
Tell the world where you've been
on your way to the Virgins,
show them all what it means
to be with me.

I'm upside down in the sun
but I'll be back soon enough
with my pen in my hand
and a song in all my hearts
for e v e r y one of you
but most especially
for YOU
and for YOU and for YOU.

TENDER KNEED

You were s w e l l i n g
up like a frantic coragonus hoyi
in a tangle of my lines
dreadful dire

S w i m m i n g.
Not floating.
Never quite drowning
when you stop.

Until, s l o w l y
I rolled over towards
And then,
Below you.

I found myself
contending 'with you' and
not for the fisting,
not 'in' you.

The pain throbbed,
as your prick made me bleed.
Never seemed to hurt
or worry you though.

With patience you grabbed me,
the roots of my thorny bush,
and grew to understand. But why?

Is your own root not horny?
Hard on by hard on, and
again hard on,
one by one.

The transparent touch
of your dysfunctional hands
stripped me naked, of
the few clothes I still had on,
necessary with others
But you're cool, gimme some.

Your painful procedures of love,
cured by flatulence,
stoked my pointless drafting,
started when I discovered the joy
of owning a keyboard, w h i c h
ended my soul searching.

And your gratuitous exposure
lucked into my bare ASS
my love. You too.

THE SEMEN

You change with the sailors,
but never veer from the sea.
You soil me awhile,
Only to return on my laundry.

The power of my passion.
The length of my pen.
See the shortness of my turds,
wankers will love me again.

The wind in my bowels,
The sound from my hole,
The stirring of farts
Is why you will come.

You soil me so.

STILL LIFE UNLAID

I stand outside stroking,
peeing through the crack,
notice my deflection
rolling down your back.

I wish I could be near
what leaks from your flies.
I wish you could hear
the sounds out of mine.

But our farts are as stale
as the chili we ate ~

So I stay outside stroking,
peeing through the glass
notice how you're standing
with a finger up your ass.

And so your turds
are a still life
unlaid.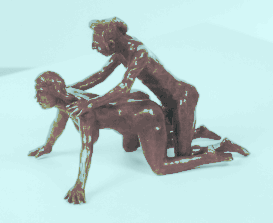 Crazy Tracy Meets the Bishop

I met him going down the road
And much said he to me.
'Those tits are flat and falling now,
No other charms I see,
Go find a place in heaven lass,
Give up your tar shanty.'

'Fair and foul are kith and kin
And fair needs foul,' I said.
'My friends are gone, the truth to tell,
And some of them are dead;
My body's missing some of its parts,
But I take it now in the head.

A woman can be proud as hell
When on love she's bent;
But love has build his house here
In this place of excrement;
Ain't nothing in my soul or hole
That doesn't pay me rent.'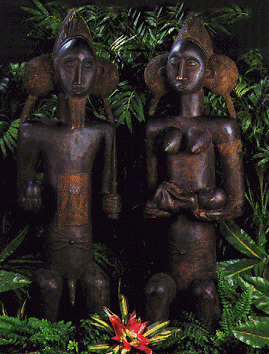 By Tracy McGimmesome - Plump / Awful / Copyright
All Wrongs Righted Punted in U.S.A & World-wide.
NEW POEMS THIS WEEK of erratic sexual encounters
with animals and implements at Tracy's place.
Comments Mostly Welcomed.


Click on the Philosophical Question
to Return to
Sharin' the Nude Whirl of Poultry



Click on the Murky Gravemarker
to Visit
Ebb's Necrotic Whirl


Click on the Fuming Freak
to Visit the
Special Guest Poet Page



Click on the Gibbering Ghosties
to Visit
Bramwell's Crypt-Tickle Poesie Page


Click on the Top Banana
to Visit the
Night of the Living Dead Contest Winners




Click on the Flaming Heart
to Visit
Ebb's Manic Romantic Whirl


Click on the Cornish Hen
to Visit the
Inspiration for this Page